guides: install external ports
guides: install internal ports
guides: remove flip door
print ports planner diagram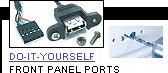 All prices are quoted in US Dollar.
To customize your ports configuration:
OPTION 1
Purchase one CPX088 Casing plus the ports of your choice.
OPTION 2
Purchase one CPX100 Multimedia Ports plus additional ports to add onto it.
To view more details and larger picture of a product item, simply click on its "view details" or "help" link.
To make order, simply click on the "buy it" link of the respective item you wish to purchase. You will be directed to the shopping cart page. You can then choose to pay and checkout; or click on "continue shopping" button to return to our webstore to add more items into your shopping cart.
At the shopping cart page, you can change the order quantities, or choose the colors of your selected items. Once you have made the changes, simply click on "save changes" button to refresh for the final order list and payable price.
When making your color choice, please note that "case color" is the color of FRONTX Casing, which includes the main housing, blank slotting plates and the flip door; "port color" is the color of port holder, i.e. the slotting plastic plate used to hold the connector.

For order amount of just $26.90, you will save over $32.00 (refer to table above). So, if you buy more, you will definitely save more!!